Have you heard the news?
I published my first workbook.
A what now?
Ikimashou is sort of an E-book with which you can work on yourself — independently and at your own pace. All you need to do is to print out the book and get started.
Where will your path take you in 2021?
The year 2020 demanded a lot from you. Nevertheless, you made it through the year and you are on the magical threshold to the new, fresh year 2021. It's the perfect time to reflect on your life and to start something new.
Are you looking for more meaning in your life?
I think that we all encountered some feelings of disappointment, frustration or sorrow in 2020 and we are longing for a fresh start. Why not using the turn of the year to lovingly let go of old ballast and to make room in your heart for the gifts that the new year has in store for you.
With new energy and a positive mindset, you will find your unique path in the new year and possibly achieve new goals in your life.
Ikimashou means personal growth
行 い き ま し ょ う – Ikimashou – is Japanese and can be interpreted as "Let's be on our way!" or "Let's go!"
I love this motivational phrase so much that I decided to us it as the title of my first Workbook.
Why Japan?
I am a big fan of Japan since I was a teenager. I visited this beautiful country three times already – not as a tourist, but as a true admirer. I didn't sleep in hotels and went on tourist day trips (except for Mt. Fuji on my first visit). I have a private room in Meguro, Tokyo in an authentic Japanese apartment hosted by a fellow globetrotter.
I visited Japan for the first time all by myself in 2017. Over the last years, I connected with many friends around Japan and I got the chance to work as a coach in Tokyo.
When I didn't get the chance to return to Japan in 2020, I started an additional Coaching education called "Ikigai Coaching". The Ikigai life philosophy truly resonates with my values and my mission as a counselor.
Read more about my Ikigai Coaching Program here:
Now it's time for you to be inspired by the Japanese philosophy of life and start the new year with ease and confidence.
With this workbook, you will reflect on the past year, draw strength in the present moment and find your personal mission for 2021.
Let this workbook be your New Year's present.
Is this the right Workbook for you?
The workbook is suitable for everyone who is looking for a new and meaningful beginning in life. As a psychologist and an aspiring Ikigai coach, I have put together valuable exercises for reflection, awareness and planning for your New Year – inspired by the Japanese Ikigai philosophy and Buddhism. All you need for your new beginning is a pen!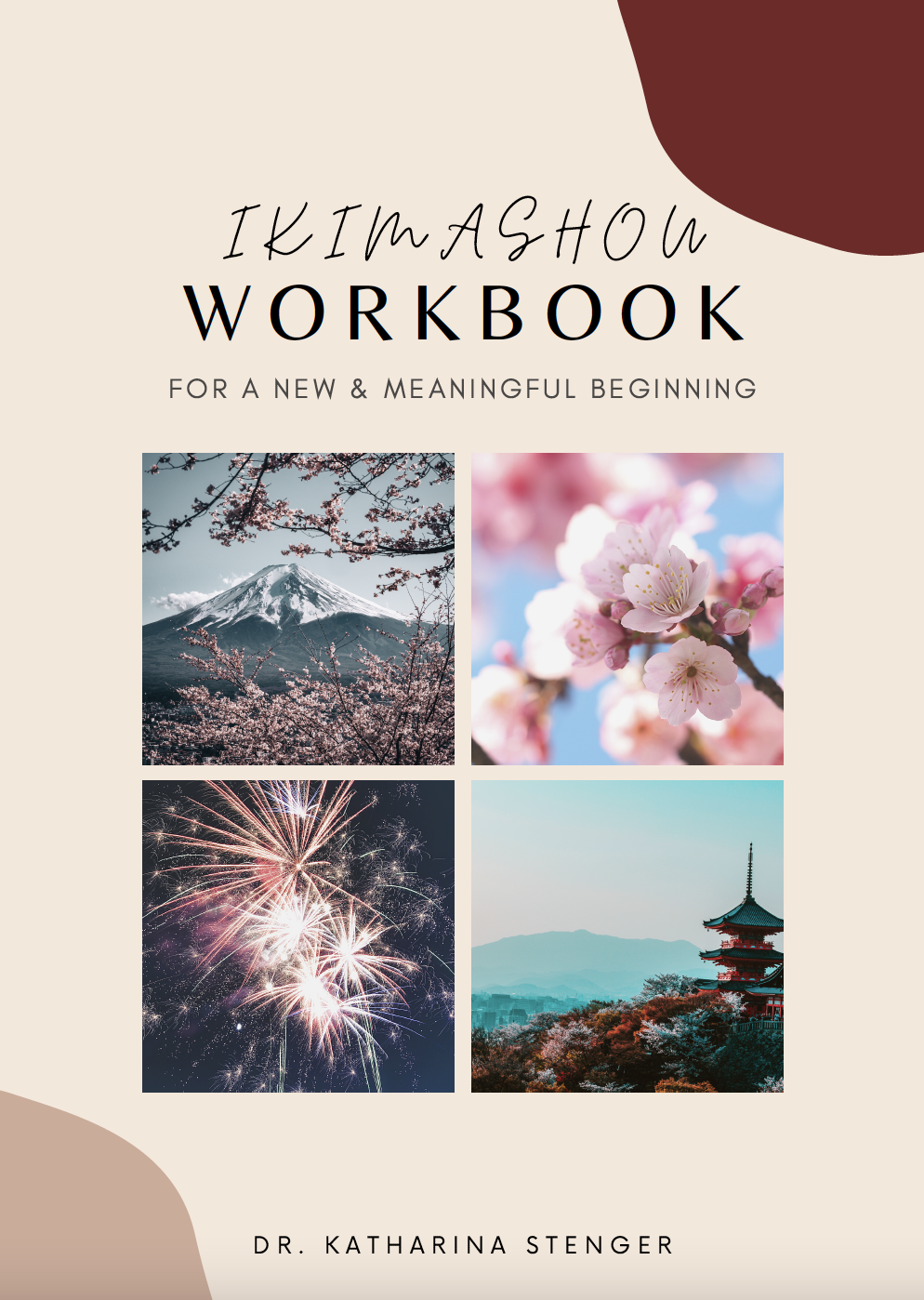 With this workbook you will learn how to…
– let go of the old year with a grateful heart
– get into an energetic work flow
– (re)activate meaningful relationships in your life
– find more meaning in your daily life
Contents & Order of the workbook
More than 40 pages with inspiring texts and practical exercises on these topics:
– New year & new start
– Annual review with Naikan reflection
– Work flow and conscious living in the here and now
– Fulfillment with your personal mission
– Bonus: Ikigai Questionnaire – Find purpose in your life
Download the printable Workbook PDF
No printer? No problem! The PDF is also available to fill out on your computer.
Write to me an email:
info@katharina-stenger.de
Price: €25.00 including VAT
You can join the waitlist for my Ikigai online coaching here: IKIGAI COACHING PROGRAM
Are you looking for a personal coach or psychologist? Let me know!
info@katharina-stenger.de